With 4 of 16 recycled water fill stations reporting their stats to this blog, I'd call that pretty good considering this is a completely new field. City of Brentwood, City of Healdsburg, Central Contra Costa Sanitary District and Ironhouse Sanitary District all make their fill station stats public.
This go around, while also asking for stats, I asked if anything has been learned. One fill station mentioned their purchase of the PortALogic system to reduce the man hours required in staffing the fill station. Something other fill stations may want to invest in when it comes to analyzing the increased costs of staffing a free recycled water fill station.
Combined volume giveaway: 8.7 million+ gallons 
City of Brentwood Free Recycled Water Fill Station Stats – August 2015
The City of Brentwood, boasts the highest volume of water served in this stats lists. They gave away 5,077,000 gallons of water in August.  Their total delivery is now 6.807 million gallons. Great start considering they only opened on June 16th, 2015.
From my contact at their fill station – they served 21,176 vehicles and averaged 170,032 gallons per day.
Each vehicle takes about 239.75 gallons per trip.
Unfortunately, no fancy charts this time nor anything learned worth sharing.
---
City of Healdsburg Free Recycled Water Fill Station Stats – August 2015
City of Healdsburg – yes way up in the north bay – shared their fill station stats. Of the 24 registered users, they gave away 47,000 gallons. This equates out to about 1958 gallons per registered user or 7 trips throughout of the month.
When asked about any tips or tricks they've learned since opening, they had this to say: "The program has seen steady and consistent use, though we would like to see the number of users (and water delivered) to increase in the last couple of warm months. Currently, our station is manned during set hours to fill containers and provide permits to new users."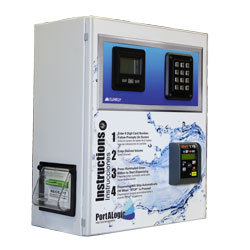 When it comes to staffing the fill station, "we've received our new PortALogic water fill station systems but have yet to install them. We are hoping that the new systems will help cut down on the manpower time needed to run the system."
Staffing a fill station has a tremendous cost on provider agency, something most people don't take into account when they hear FREE!, the impact is being felt by all involved. The awareness gained for recycled water however is huge and is a factor often viewed as possitive by board members when discussing costs.
PortALogic appears to make a pretty solid system, information definitely worth sharing with other fill stations.
---
CCCSD Free Recycled Water Fill Station Stats – August 2015
CCCSD was less than 5,000 gallons short of giving away 3 million gallons of water during the month of August. At 2,995,679 gallons, an increase by nearly 360,000 over the previous month, they had a great showing. They are open 7 days a week and only have 7 taps running. Their limit from more gallons served is their small number of taps.
Even with their large volume of water served, their number of trips by fill station users also increased. This month they had 13,632 visitors, up 1,187 visitors from July. Daily gallons per trip is 219.75 gallons. So plenty of IBC totes visiting their fill station.
CCCSD is the only fill station that breaks their stats out into a per community level. On a Gallons Taken by Community view, water deliveries to Danville, Moraga, and Orinda have nearly doubled while use by employees and out of service area users has nearly tripled when compared to July.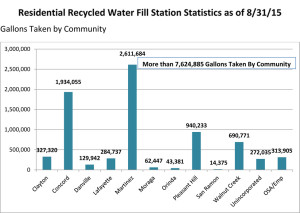 When compared with number of visits by community to July, we find that only the OSA/Employee group has doubled and then some.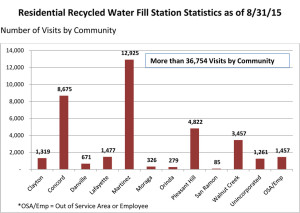 The number of registered users by community has risen as well, nothing too out of the ordinary. Martinez and Concord still lead the pack.
The last stat that CCCSD provides is how the number of registered users compares to their water company. This is helpful when water agencies are looking at their percent conservation numbers and CCCSD puts it front and center where their users get their potable water from.
CCCSD also didn't have anything new to share with their fill station operation. They should be installing solar panels on their HHW facility soon and will need to re-route traffic around that construction project – details on this have yet to be finalized. We'll update you when they are available.
---
Ironhouse Sanitary District Free Recycled Water Fill Station Stats – August 2015
I should note that Ironhouse Sanitary District runs their own blog on Blogspot and I visit their page to copy their stats to post here. Of all the fill stations, they are the first that I've seen to post their own stats, props to them.
At the time of publication – they didn't have end of the month stats up on their page so their data is a little stale, but its still relevant.
On their latest fill station update post – ISD's Residential Fill Station gets busier by the day… they have given away more than 1,000,000 gallons of recycled water since they opened on July 20, 2015. A great milestone that should be celebrated. Below is the stats chart they created: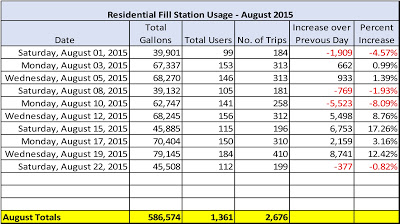 ---
Keep hauling friends, please remember to do so safely.
Until next time…