I bought a house last year that I share with my girlfriend and dog. Like any guy that is mechanical in nature I would much rather be outside working in the yard than being couped up inside playing on the computer. With the California drought, I took an interest in hauling RecycledH2O as I drive a massive truck and have a thirsty lawn and yard. Here is my story.
I drive a Ford F350 which can support over 2600 lbs in the truck bed. I tried the 150 gallon bladder option but would much rather transport more water per trip as my truck can handle the load. I wanted to haul more water, so I found a 275 gallon IBC tote on Craigslist for a little more than $100. It worked perfectly for my needs.
Ironically – I got it from "The Lucky Garden – Dublin Hydroponics" – http://sfbay.craigslist.org/eby/grq/5034366809.html. They have them for sale now for $125 a piece and they're local – in Dublin. Definitely worth picking up – I now have two.
I keep one in my side yard- plumbed up to the gutters for rain water collection and one for the bed of my truck. I can bring a load of water home and pump it into the tote in the side yard for usage in the vegetable garden or trees/plants. The onsite storage is great!
I needed a way to get the water out of the tote efficiently. I originally tried putting a hose in the port at the top of the tank, but had trouble getting the water up and out of the high level of the tank along with the truck bed. I needed to build a connection between the 2″ outlet valve that is already on the tote so I could hook my 3/4″ garden hose up to it. Off to Home Depot to pick up some required parts.
As you can see in the picture on the right I got the following parts –
1 – 3/4″ Brass hose to male thread coupler
1 – 1″ PVC threaded female to 1 1/2″ threaded male reducer
1 – 1 1/2″ PVC threaded female to 2″ threaded male reducer
1 – 2″ PVC coupler NPT Thread
1 – 2″ PVC NPT threaded male to 2″ Butress threaded female tote connection
I screwed everything together with some nylon pipe tape between to make a secure connection. With this configuration I could allow gravity to push the water out of the bottom of the tank and into the suction side of the hose. This made it easier to prime the pump.
Now that I had the means to hook a hose up to my tote I needed to be able to pump it up my driveway to my lawn. I did some research on pumps and found on at Home Depot that would work – RIGID Pro Transfer 1/2 HP Utility Pump – this pump would pump 1450 gallons per hour at a cost of $108.
Harbor Freight – with their infinite 20% off coupons had a similar pump for $80 – $64 with coupon – 120 Volt Portable Utility Pump 1500 GPH
I picked it up and brought it home.
Once home, hooked it up to the tote using the connection I built above. I leave my truck parked in the street, flip down the tail gate and run a 3/4″ garden hose that I cut to roughtly the length to my garage door (this way I do not have to unwind 50 feet of hose each time I want to unload) from my tote to the utility pump.
From the truck the red hose runs to the suction side of the utility pump.  I then hooked the pump up to a garden hose and ran it to an oscillating lawn sprinkler.
The pump claims to push about 25 gallons a minute, but in my usage it takes slightly longer. It takes about 30 minutes to unload – just enough to time to take the dog for a walk around the block.
I water my lawn 3 times a week. I fertilized the grass once around February, but honestly haven't needed to fertilize since then. I tend to unload the tote in the morning and let the water soak in really well.
A couple of weeks ago I watered every day and then that weekend it got hot. My lawn went crazy. I had to mow it twice in 3 days.
I'm not complaining though, the grass in my front yard is as green as I've ever seen it and my water bill is lower than it was last summer. I haven't used any city water this year to water any plants on my property.
I am thankful that Central San has made recycled water available to residential home users like myself. I picked up a sign and display it loud and proud. 🙂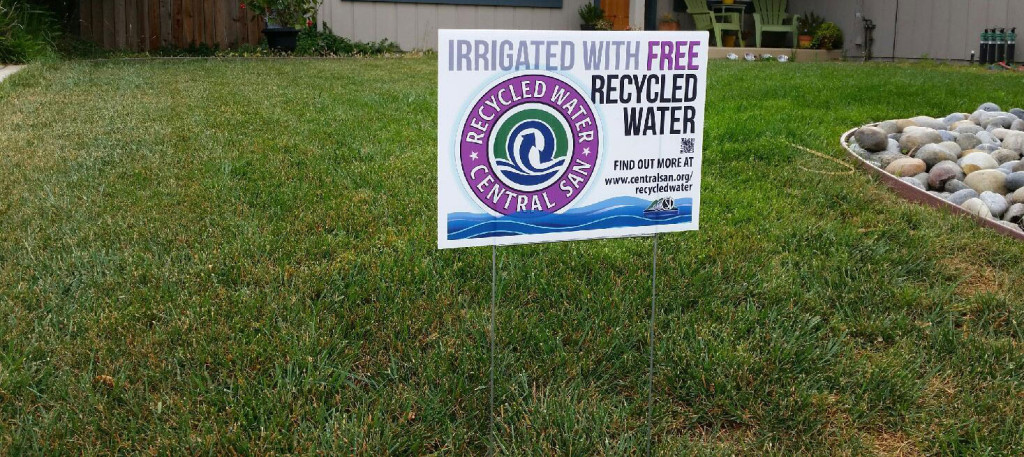 – Bret G. – Guest author for RecycledH2O and Grade III Treatment Plant Operator @ CCCSD
---