Thinking of re-landscaping? Consider including a Swale in your design.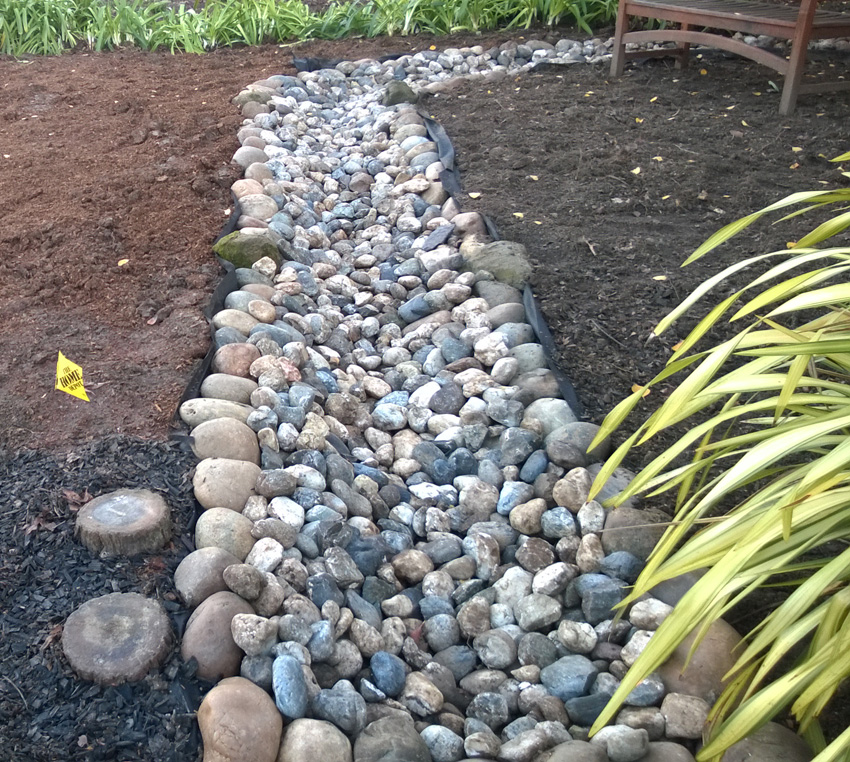 Wait! What is a swale?
As defined by Wikipedia – Swales "are designed to slow and capture runoff by spreading it horizontally across the landscape (along an elevation contour line), facilitating runoff infiltration into the soil."
So why should I do this?
Swales appear as dry river beds on the landscape but have a buried pipe that serves as a dual purpose. We built ours as a 2′ divider between a patio and a planting area, but it could be utilized anyway you want. We have plumbed one of the downspouts from the roof gutter to our swale, so that when it rains, water from our roof is directed into the ground instead of down the street. This helps to bring the water back into to our soil and provides the water and nutrients to the roots of our plants. Of course, this would require rain.
Mine is dug 2′ deep, 2′ wide and is about 25′ long. I have buried 25′ of 3″ black drainage pipe (10′ of solid pipe and 15′ of perforated pipe). The piping is perforated to allow water to infiltrate into the ground.
As shown how to bury a drainage pipe online, the pipe is surrounded by gravel – found at any masonry supply yard, and then landscape fabric is between the gravel and the ground. On top of the swale, at ground level, the rock has been shaped like a dry river bed, more landscape fabric was laid down and river rock as placed as well.
---
How does recycled water play a role?
Remember how I buried that perforated drainage pipe? Well, I also plumbed in a dedicated recycled water pipe from the walkway to the middle of the swale.
This pipeline is 1/2″ PVC with a female hose connection on one end, a T-fitting on the other to allow water to flow into the swale. The outlet is hidden by rocks.
When I unload recycled water into this pipeline, the water percolates into the ground and uses the buried drainage pipe as temporary storage until the ground is ready to absorb more water. If too much water is unloaded here, the water will pool on the surface of the swale for about 10-15 minutes before the ground absorbs it below rock level.
A few days after unloading, the ground is still moist in area's near to the swale.
By keeping the ground wetter than normal, I am just using this as an avenue of replenishing water that would otherwise be normally deposited from sprinklers.