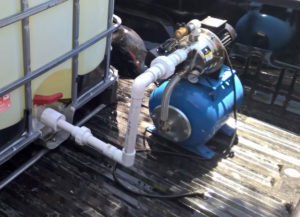 There are many different manufacturers of pumps that are excellent at unloading recycled water tanks, barrels or bags. They all serve a purpose, but vary by size, weight and capacity. Some pumps may look the same and function the same but are branded differently.
We've chosen a few that we've seen most often, they're mostly purchased at Harbor Freight due to price and availability. Many people hauling recycled water wanted to do so on the cheap and Harbor Freight helped to make that possible.
Harbor Freight Pacific Hydrostar 120 Volt Portable Utility Pump 1500 GPH
Pacific Hydrostar – item#65836
This is probably by far the most popular pump to use. I called a local Harbor Freight branch last year and he said they were all sold out in store and had no idea why there was demand. I told him the use and he said "it makes sense."
This 120 volt 1500GPH pump uses standard brass hose fittings on each side. It usually sells for $ 69.97 but with a 20% coupon you can find in the mail, you can easily get it for $59.00 plus tax.
Rated at 25 gallons per minute, this pump has a pressure output over 50 pounds per square inch, enough to run quite a few impulse lawn sprinklers. In some cases, the pump pressure is higher than the hose pressure you have at your house.
It is obviously a recycled water haulers dream to use this pump. Just look at the top rated reviews on the Harbor Freight website:
Pumps like old faithful!

I bought this to use unloading a 275 gallon tote of recycled water. I use one sprinkler under my shade trees and also fill basins under my citrus trees. It runs perfectly with not to much noise and can empty the tote very quickly. My recycled water fill station is only open from 8AM to noon and I can get three loads in that time using this pump to unload. Great product!"

Reference: http://www.recycledh2o.net/2016/06/11/diy-how-to-prime-a-utility-water-pump/
Rigid Pro Transfer 1/2 HP Utility Pump
Model TP-500K Internet #100661340
Same style and mechanical nature as the Pacific Hydrostar 1500gph pump from Harbor Freight, the Rigid Pro Transfer ½ HP utility pump from Home Depot sells for ~ $108. It can generate up to 50 PSI on discharge and claims to unload at 1450GPH (24 gallons per minute).
It takes this pump about 30 minutes to unload a 275 gallon tote, as written by Bret G in "Hauling 275 gallons of water with an IBC Tote".
The pump comes with ¾" hose fittings, has a cast iron housing (so it's a little heavy) but works perfectly fine when unloading recycled water. Plus, you can find it at most Home Depot stores.
Superior Pump ¼ HP Submersible Thermoplastic Utility Pump
Another Home Depot pump which fits inside the 6" opening of a 275 gallon IBC Tote costs ~ $51.90 at the store. This is a perfect fit for many recycled water haulers not interested in finding attachments for the bottom drain valve. It discharges to a standard garden hose.
Coupled with a float switch, this pump becomes the only pump which will turn itself off automatically when the tank is empty. The pump has an adequate amount of pressure to use with a garden hose wand.  This was the pump referenced in our article "DIY: Storing recycled water in an IBC Tote".
Everbilt 0.1 HP Non-Submersible Transfer Pump
Available for $88.82 @ Home Depot, this 0.1HP transfper pump does a fine job of watering a small front yard, re-filling a fountain or running an osculating sprinkler.  This is the exact pump referenced in our article "Oakley Residents Conserves 30% on water bill hauling recycled water."
An item to note, the hoses will crink when attached to this pump, so as this homeowner did, build a small stand for the hoses to rest on so they won't.

1-1/2 HP Portable Sprinkling Pump 1215 GPH
Pacific Hydrostar – Item#69304
This pump sells for $129.97 at Harbor Freight, less with a 20% off coupon you can get in the mail. It comes with 1″ fittings (which is allows it to move a large volume of water with less pressure 36psi) and will pump up a large height. This becomes perfect if your property is on a hill and you're looking to pump water up hill.
The pump is rated for 1.5 HP, so it will use ~ 1.12kW when running and will pump at a little over 20 gallons per minute.
I have seen this pump and its IBC tote setup for sale on Craigslist, thats where I got the photo from.
---
There are many different pumps on the market.
If you use something we haven't mentioned and would like to share, do so in the comments and we'll add it to the list.
Save