Spring has sprung and so has the number of articles. We're in the process of changing over from rainwater harvesting to recycled water hauling. The California drought has shown signs of fading in area's of low population, but it is still severe to exceptional in the rest of the state. El Niño rains have helped, but as reservoirs are full – we're still faced with mandatory water conservation.
This past month we focused a lot on rain and its resources for us as home owners. Read on to see a re-cap of this past months articles, top twitter tweets and Facebook posts.
Why do we talk about rainwater harvesting?
I read a book – I consider it a bible – about rainwater harvesting. This blog post covers the 8 principles to rainwater harvesting. It is an excellent read for anyone with an interest in rainwater harvesting.
The practices employed in this post are the same ones I put to use when I tore out my lawn a year ago and put in drought tolerant landscaping. How do you ask? I've buried a downspout from a my roof directly into the ground and with every rain storm, its like the roof is irrigating the ground for me. Seriously.
The advantage in this case is I won't need to run the sprinklers until maybe a month later than any other part of the yard.
I recently talked with a water conservationist from the local water company and they didn't know about swales, bio-retention basins or cisterns when it comes to making rainwater work for you.
El Niño Could Lower Tax Bill
We discovered in Texas, homeowners can have their property tax bill exempted for a year if they install a rain tank on property. Yes, read that again.
Our property values are high in California and our taxes are 1% of that value. I did the math and the cost of installing a rainwater harvesting tank on my property is quite low compared to the cost my property taxes. If this exemption was implemented, many people would jump on this option.
If this sounds like de-ja-vu, it is. Homeowners get tax credits to install solar panels on their roof's to offset their electrical needs. Rainwater harvesting deserves the same kind of credit.
Lawn-to-Garden: A Year Later
Last year, I re-built my front yard by tearing out all the grass, flattening the surface, putting in a patio and planting drought tolerant plants. As time passed, plants grew and a beautiful landscape took shape. A follow-up post to one of my first articles was written. Just check out the transformation.

Residential Recycled Water Fill Station – Spring 2016 Update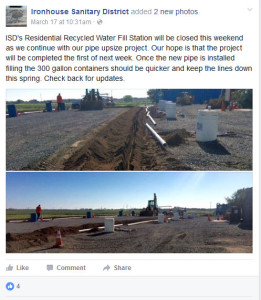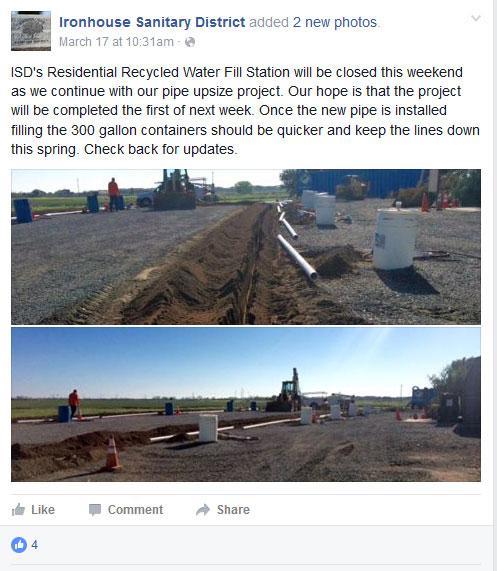 Whether its raining or not, or there is a drought or not, residential recycled water fill stations are here to stay. Dublin San Ramon Services District recently learned that 55% of their fill station user base will continue to come pick up free recycled water, even if the drought ended.
This new found knowledge then prompted area fill stations to expand their operation to handle an increased demand. Ironhouse Sanitary District in Oakley temporarily closed their fill station to install larger distribution pipes to handle more flow and pressure. City of Livermore and Scotts Valley Water District are still considering whether to re-open this summer and Central Contra Costa Sanitary District is trying to figure out how to decrease wait times from 50 minutes at peak demand to 15 minutes max.
---
Until next time.