As El Niño begins to wane and the California Governor begins to re-think his drought limitations for this spring (they were reduced from 25% to 20% this winter and may be reduced further for this summer), we find ourselves asking area residential recycled water fill stations what they have been up to. This post is to share some of those findings.
Ironhouse Sanitary District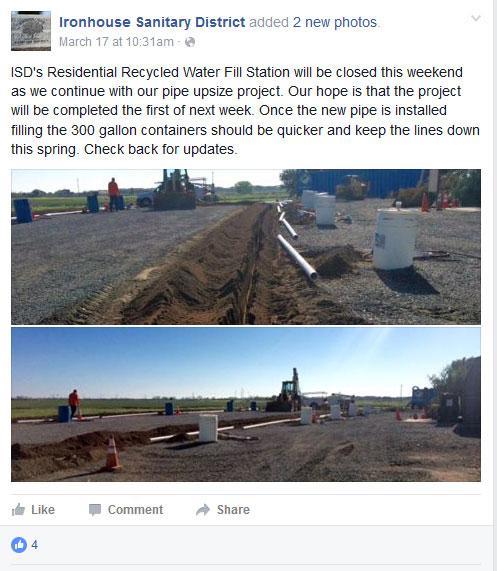 If you follow them on Facebook, you'll know they've been "up-sizing their pipelines [to their fill station] to accommodate more flow," said General Manager Chad Davisson in a recent Facebook post. As of March 23rd, Ironhouse should have opened back up, ready for business.
As echoed on our "Where to get Recycled Water" page, their hours are Monday & Wednesday – 11:00AM to 5:00PM and Saturday 8:00AM to 2:00PM.
City of Livermore
You may remember the last time the City of Livermore was in the news regarding their recycled water fill station – they were closing in preparations for winter. I called them recently and they said they would decide after April 5th whether they would re-start their recycled water fill station program this summer.
As Denis Cuff found out, the city spent "$170,000 to operate the fill station, mostly on staff time to monitor the plant and supervise consumers as they fill up their tanks, barrels and jugs."
Scotts Valley Water District
Scotts Valley Water District closed their Recycled Water Fill Station in mid November after giving away just more than 70,000 gallons with plans to re-open sometime in the spring of 2016.
As that time approaches, "we do not have a firm fill station open date yet," said David McNair, Operations Manager at Scotts Valley Water District. "Most likely sometime in early May."
Keep your eyes peeled for updates from them. If you would like, you can always sign up for their newsletter to stay better informed.
Central Contra Costa Sanitary District
Recently stated in a board meeting agenda, the recycled water fill station gave away over 11,000,000 gallons to more than 55,000 visitors. From June through October they averaged 467 cars per day with an average wait time of 50 minutes.
"The plan for 2016 [is] to accommodate 500 cars per day" explained David Wyatt of the Household Hazardous Waste (HHW) Facility. "To increase the availability, the plan is to use the new automated truck fill station, which should be completed by the start of summer. Repeat customers who come several times daily and those with larger storage tanks would be directed to use this site instead of the HHW to relieve traffic and reduce wait time."
Their goal is meet a 15 minute wait time at their fill station and they are exploring options. Details have not been finalized yet.
The flyer below was in the CCCSD lobby this morning.
More details of other fill stations will be published as they become available.