After a crazy summer season where large fill stations were giving away millions of gallons of Recycled Water each month, activity has slowed to a near standstill. As this blog does every month, we reached out to the still active Recycled Water Fill Stations in California to report on their statistics for you to see.
To see a list of currently open Recycled Water Fill Stations, check out our tracker page here. Of 22 residential recycled water fill stations that were open in California this past year, 13 are still in operation this winter.
If you question why fill stations are either closed or have severely limited their output,  Ironhouse Sanitary District in Oakley said it best:
Central Contra Costa Sanitary District
Recent El Nino rains has reduced activity at the fill station in Martinez. It has helped pave the way for CCCSD to install quite a few solar panels at the facility there which any fill station user will see upon driving in.
Since our last update at the end of October here are two months worth of data.
Total Gallons Served: 11,755,462
Total Registered Users: 2091
Gallons Served November & December: 149,983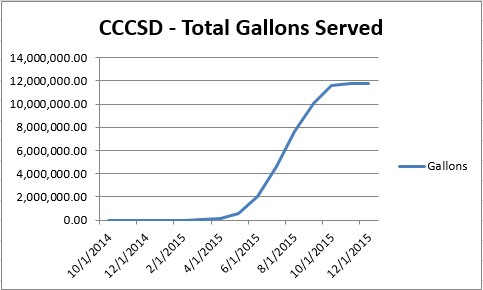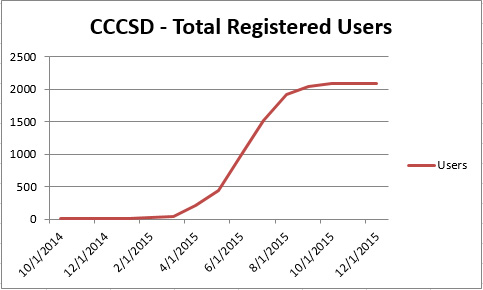 Note the trend in the charts as virtually flat lining since October.
City of Brentwood
Activity is down considerably as the fill station only saw 2031 vehicles in the month of November, and 679 vehicles in the month of December. Quite a drastic difference when they saw over 23,000 vehicles in August 2015. Traffic for December is down 97% from their peak in August. Amazing how cooler temperatures and rain helps alleviate residential irrigation needs.
In November, City of Brentwood surveyed their users about what days would work best for them to keep the fill station open and their responses led to the facility being open on Monday and Wednesdays. They fully anticipate to be open again 7 days/week later this spring/summer.
Total Gallons Served: 15,013,000
Total Gallons Served November & December: 490,000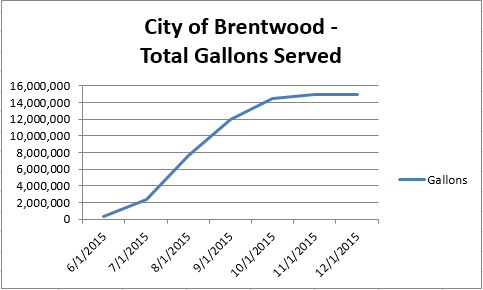 Dublin San Ramon Services District
DSRSD has been very up front with information on social media, much like the tweet below when their fill station will be closed.
The residential recycled water fill station will be closed on Wednesday, January 6th due to rain.

— DSRSD (@DSRSDnews) January 5, 2016
As the trends show, El Nino rains are hampering efforts to distribute recycled water via their residential fill station. DSRSD is one of three agencies that have given away tens of millions of gallons of water, so when they give away nearly a million gallons in two months (as seen by the near flat line on their Total Gallons Served chart), people tend to take notice.
I asked my contact at DSRSD if they have heard of anyone re-using their recycled water totes for Rainwater Harvesting or utilizing greywater capture from their laundry machines and they said we "have not heard much from customers regarding rainwater harvesting or greywater capture."
In retrospect, between July 2015 and September 2015, the fill station at DSRSD gave away 9.53 million gallons of water, now they're down 90%.
Total Gallons Served: 28,197,000
Total Registered Users: 3,602
Total Gallons Served November & December: 905,000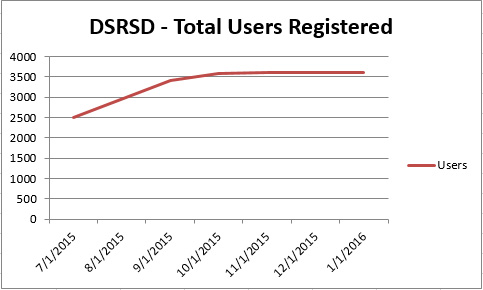 Irvine Ranch Water District
Of all the recycled water fill stations we track, Irvine Ranch Water District is the only fill station that adjusted their open hours for daily light savings time and is still open the same number of hours as they were before winter arrived. Everyone else has greatly reduced their hours of operation. With that said, Irvine Ranch is also the only fill station that has almost doubled the volume of water they have given away if compared to anyone else. Las Virgenes comes in a close second.
Total Gallons Served: 55,000
Total Registered Users: 200
Total Gallons Served November & December: 22,000
Irvine Ranch is also promoting the use of rainwater harvesting with events at the local Home Depot. I wish my local agency did that.
Winter Water Saving Events! Lake Forest Home Depot 1/16 8am-12n IRWD experts on site to assist.@LakeForestCA #rebate pic.twitter.com/yCiIOWlQmX

— IRWDnews (@IRWDnews) January 13, 2016
Las Virgenes Municipal Water District
It has been raining in Calabasas, raining a lot.
#Calabasas got another .3 inches overnight, bringing this week's rain total to just over 3 inches!! #ElNino pic.twitter.com/4p9X8JqQOf

— Las Virgenes MWD (@LVMWD) January 7, 2016
Even with El Nino rains, the Recycled Water fill station was open three of four Saturdays in December (they were closed the day after Christmas). Even still, 27 customers took home 960 gallons of recycled water. Things have slowed down with the holidays and now with a little rain.
Total Gallons Served: 10,622
Total Gallons Served November & December: 3,862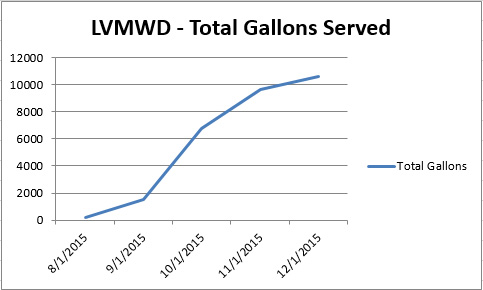 ---