Would it be possible to use 1/2″ poly drip tubing left-over from the drip irrigation installation in the front garden as a garden hose to plumb two impulse irrigation sprinkler heads together?
Yes it is!
Here is how I set that up.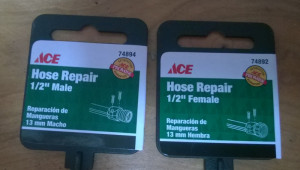 I went to Ace Hardware, and picked up a male and female 1/2″ hose repair kit. Then using the 1/2″ drip irrigation hose I had laying around in the garage, I unrolled a segment from one sprinkler to where I wanted the second impulse sprinkler head to go.
Cut the pipe and attached the female end to the first sprinkler and the male end to the second sprinkler.
I also installed a brass Y-adapter that my neighbor picked up and put in another shut-off valve. This goes to my lawn sprinkler.
The lawn sprinkler now acts as a pressure reducer on the system so that I can dial in the impulse sprinklers and still spot water at certain places in my front yard… like the swale or in any other plant that loves recycled water.
I picked up another 150 gallons of recycled water this morning and test ran the system. Its all powered by a 1500 gallon per hour utility pump I picked up from Harbor Freight. You can read all about that project on "Tips & Tricks to Unload Recycled Water More Efficiently".
In the words of the ever famous Borat – "Great Success!"
Everything worked as expected, drip irrigation hose held just fine, sprinklers ran for about 20 minutes and the plants in my yard were watered.So yes, it is possible to re-use that black drip irrigation piping in place of garden hose.
For a recycled water blog, it would only make sense to re-use items you may already own. Heck, if you wanted to… 100ft of drip hose is only $11. Those hose repair pieces were $2 each. This is a cheaper option than using garden hose, looks cleaner and as long as you don't roll it up, it should last quite a while.
I'll update in a month or two on how the lawn looks after watering this way. I am hoping for the best. 🙂